Mainstream Dry Hydrants

Inc.

www.dryhydrants.com
Your Best Source For Dry Hydrant Products, Fire Fighting Equipment and Information
Typical Insulated Dry Hydrant Side View Illustration
Typical Dry Hydrant Frost Free Configuration: In area's of freezing climate and little ground cover as illustrated here it is also advisable to install Styrofoam SM below the surface horizontally around the riser pipe and over the pipe run all the way to the water's edge and pipe wrap insulation on the riser pipe. It's also a good idea to spray the threads with a frost inhibitor after each use or water can collect and freeze at the base of the thread making it difficult to get a seal with the hard suction hose. We've heard of firefighters giving up on a hydrant thinking that it was frozen only to find out after the incident that there was just a little ice in the thread preventing an air tight seal against the gasket.
Strainer Support Clamp Detail: Horizontal Strainer. Holes up.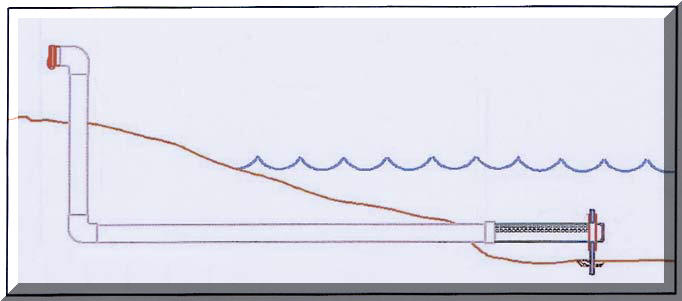 Strainer Support Clamp Detail. H

orizontal Strainer.

Holes

should

be installed

facing

up

at least

two feet from bottom.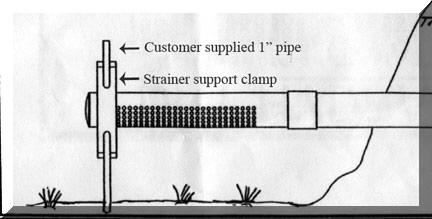 Holes Should Be Installed Facing Up ! Some Apparently Get it Wrong : (
Face down could suck sediment.
Last updated March 13, 2022